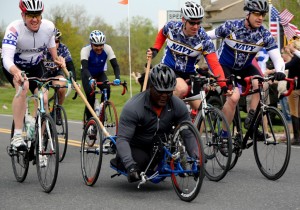 Hey friends and family, help
     I hope you all are enjoying the beginning of spring.  I am dropping you a line today to tell you about a really neat organization that I am supporting in April.  It is called the Face of America bike ride.  This is an event that allows veterans and active duty men and women who serve in the armed forces to take part in a 2 day bike ride from DC to Gettysburg.
Here is the really cool part.  The ride focuses on disabled veterans who ride adaptive bikes.  So there are recumbent bikes customized to allow for prosthetic limbs, or hand cranked bikes that are peddled with arms rather than legs.  My role in the ride is two-fold.  First I ride with the group and assist those who need a help getting up the hills or encouragement.  Many of the bikes are fitted with what looks like broom handles off the back of the bike so that my teammates and I can push those needing assistance up the hills.  The second responsibility is that I need to raise funds for the ride so that the cost to those who have served our country is minimal (or free in some cases).  It would be a blessing if you could support me on this ride.  I will be joined from others from my church and we are excited to support the veterans.
I need to raise a minimum of $750 for the ride.  The ride will be held on April 26-27 and will cover 110 miles.  This will be the first time I will be riding, but I have heard from others that it is a powerful experience for all who are involved and support the race.
You can track some of my training progress at revbishop.com/foa2014 and hopefully track live where I am on the day of the race.
If you would like to donate to support me on the race please visit:  http://worldteamsports.kintera.org/faceofamerica2014/cmbishop82
Thanks in advance for your support and partnering with me for this really great cause.  IF you have any questions please feel free to ask.  Have a great do and enjoy some of the spring weather that is coming our way.
Be God's
Chris Bishop