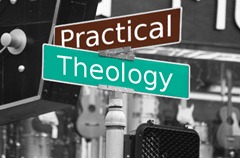 In there new book "A theological turn in youth ministry," Kenda Dean and Andrew Root Make a remark about the theological training in developing countries.  In the opening chapter of their text they speak abut the way first year theology students have a number of basic bible classes, maybe a leadership class and another highly theoretical class that rounds out their class list.  But in the Sudan there is a very important difference in the mentality of the class load which shapes the thrust of their ministry to come":
In Sudan, apparently, it's a different story. To imagine God apart from on-the-ground realities of hardship, hunger and hope-to separate biblical Greek and Hebrew from agriculture and public health-is unthinkable. What took my breath away about the Sudanese curriculum was not the classes themselves, but what those classes suggest that ministry is for. What Sudanese pastors-in-training need to learn is not how to lead a church but how to stop people from dying. In Sudan, the church is a life-force. Those who lead congregations find living water in Scripture for their thirsty flocks while staving off threats like starvation, HIV/AIDS, malaria. As a result, theological education in Sudan dare not dawdle long in abstraction. It must prepare Christians to preach the gospel and to practice it by helping pastors learn to lasso holy texts for people who are literally dying for a story of resurrection.

Andrew Root;Kenda Creasy Dean. The Theological Turn in Youth Ministry (Kindle Locations 85-90). Kindle Edition.
Student' ministry should have the same kind of focus in mind.  It needs to be practical, so that our students can see the worth of fostering a strong spirituality.  Also, We need to make sure we are ministering to the whole person of our students.  We are not just teaching them about the theology of the Trinity, or the difference between transubstantiation and consubstantiation.  We are addressing issues about what happened when you like a certain guy in chemistry class and being present with them as their parents are having a tough time in their marriage. 
When is the last time you sat with your students and listened to what is weighing on their hearts?