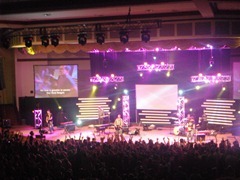 With this kiddos all tucked in bed, or at least in their rooms,I find myself wanting something to do at 12:15am.  I know I should sleep, but it is hard with a room to myself and I haven't gone though the night time routine with Eden and Katie. 
Because the gym was closed I took some time to make a little reading nook (a more mature way of saying fort out of sheets) where I am going to crash and read. 
I am just reminded that this small group of students we have with us is such a blessing.  There are time in ministry where I really feel blessed to be a pastor.  Sharing this weekend journey with them is one of those times.