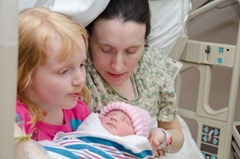 On May 4th 2012, the Bishop family's world was turned upside down again with the birth of Bethany Grace.  Eden and I come home from a preschool beach party with a surprise Thai food lunch for mom.  After lunch Katie said the contractions were getting way worse and closer together.  At 1:00 we made our way to Frederick, and by 1:40 were were seen at the doctor's office.  Just a few minutes after going in, Katie was brought back out by some wide-eyed nurses just about 10 minutes later.  They told us to go to the hospital STAT (there would be people waiting fir us there).  thanks to some heave traffic we got to FMH a little after 2.  Once there everything went very quickly and Bethany was with us 2 hours later.  We have been so blessed to have great doctors and nurses all along the way.  They have gone above and beyond to make everything great for us.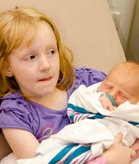 Eden is being a great big sister.  She is loving holding and caring for Bethany.  She has wanted to spend the night so badly, but spent the first night we were in the hospital with the Posey family and then last night with the Bishops.  This morning Eden is going to Middletown Church where I am sure she is going to be showing off some pictures of "her first baby."  She is going to be a great helper as we make the transition back to home life.  Now the real question is how the dog is going to feel about all of this.  I brought home one of Bethany's blankets so he could sniff yesterday.  He then looked at me with eyes that said, "I remember when this happened 30 (dog) years ago."
A new adventure begins today as we make our way home.
It is going to be great!!!!!